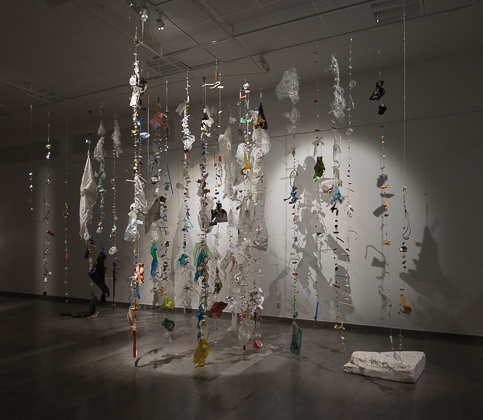 Re-Trails
Type of work: Installation
Materials: Trash from beaches, fishing rod
Size: 6 x 4 x 4 m3
Year: 2019
Exhibited: Hässleholms kulturhus, Sweden
About the work: Re-Trails consists of 33 braids made of trash that has been collected, cleaned and dried, from beach walks of appr. 30-60 minutes. The trash that is being collected, is that which nature cannot take care of itself. Every part of recollected trash has then been intertwined with fishing rod into 4 metres long braids. Every walk normally produces material for 1-3 braids. After a storm, there may become as many as 5 braids per walk.
Every braid has a Swedish text describing its date, trail and the songs that have been hummed along the path.
Photos by Cecilia Sering.