Wandering Tree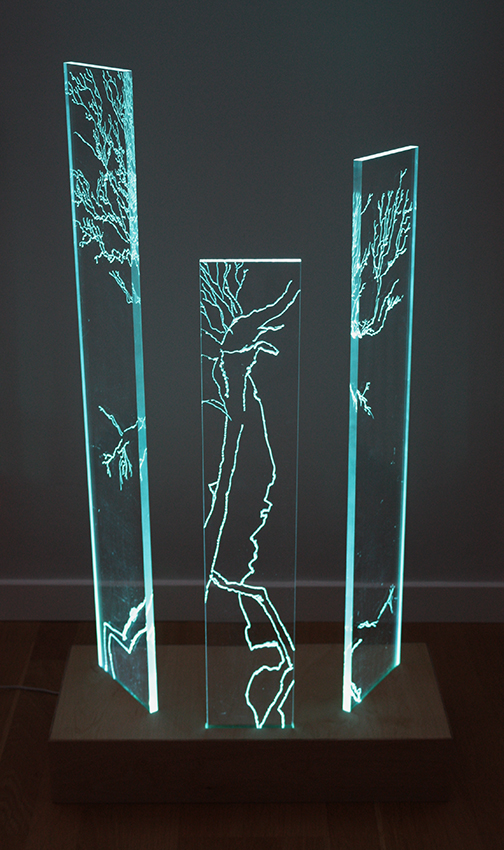 Type of work: Interactive light sculpture (scroll down for examples of colour changes)
Size: 100 x 30 x 20 cm
Content: Wandering tree is made for a private commission. A LED string is integrated in the base of the piece and also gives the choice of a wide variety of colours. The plexiglass leads the light, which becomes visible as it hits the engraved lines. The drawing also interacts with direct daylight and may give off a shadow if it is within the range of direct sun rays at an angle with a clear surface.
The title and theme of the art work is based on a poem from the book Den halvfärdiga himlen (The semi-ready heaven) from 1962 by the renown Swede Tomas Tranströmer, a favourite poet of the commissioner. The poem in Swedish, followed by a personal translation into English:
"TRÄDET OCH SKYN
Det går ett träd omkring i regnet,
skyndar förbi oss i det skvalande grå.
Det har ett ärende. Det hämtar liv ur regnet
som en koltrast i en fruktträdgård.
Då regnet upphör stannar trädet.
Det skymtar rakt, stilla i klara nätter
i väntan liksom vi på ögonblicket
då snöflingorna slår ut i rymden."
(In English)
"THE TREE AND THE SKY
A tree is walking in the rain,
hasting past us in the pouring grey.
It has an errand. It draws its life from the rain
as a blackbird in a fruit garden.
As the rain stops, the tree does to.
It glimpses straight, still on clear nights
waiting like us for the moment
when snowflakes burst in the sky."
Details of differing colours, which the viewer may change at a low pace, at high speed or be turned into only one colour or white: